Store Operations Career Paths
The Store Operations Career Path is one of many paths we offer training and expertise in. From starting as a Deputy Store Manager to becoming a Regional Director or Manager, we can provide the foundations to allow your employees to get ahead.
Martec brings first-hand knowledge of what managers, store teams, and executives do and what really works. This practical knowledge and up-to-date industry insights are what shape our training courses, meaning learners can expect retail experience that is second to none.
Each Martec career path tracks the best career routes based on an employee's skills and assets. After all, a company cannot thrive without the ambition and drive of its employees.
---
A Typical Store Operations Career Path
The chart below provides a detailed look at the prospective career path for anyone in the Store Operations Division. We provide the training to help colleagues and employees move up the ladder, or take sideways moves, whichever stage of their career they are at.
Click each icon below to view the recommended learning path for each role.
---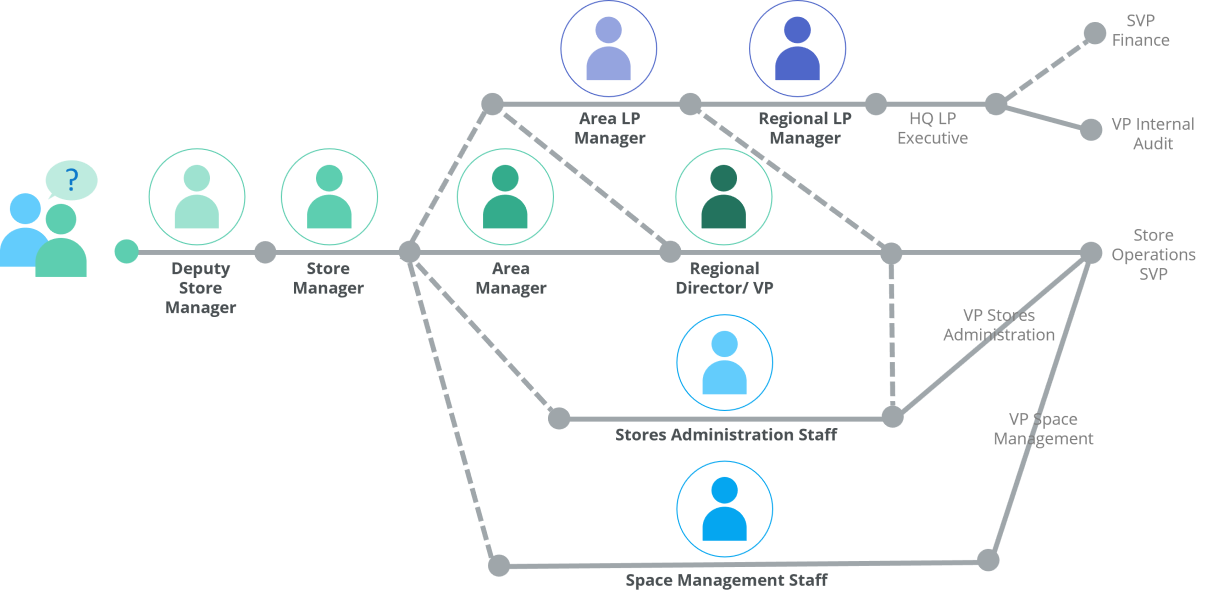 ---
What You Can Expect from Our Courses
Whatever your role in terms of leading your business, you might be wondering where to begin your staff's training. After all, you want to find courses addressing key skills, to equip your employees to move up to the level they wish to be at.
The good news is that flexibility is entirely possible with Martec. We can work with you to decide on the best options - we understand that no two employees work the same way, which is why you'll find each course broken down into easily digestible modules to be taken at the preferred pace.
What's more, the Ask the Expert component of our courses means that your employees will have a subject matter expert at hand. This custom service is completely free of charge and invaluable for growth.
---
How Is the Operations Career Path Delivered?
At Martec, what we do is designed to improve your business performance, profitability, and sustainability, as well as allowing staff to grow. We design courses that learners love, and the outstanding feedback that our classes earn shapes their evolution.

We conduct customer surveys to ensure that each class on our operations career path delivers what we promise: unmatched retail and consumer goods insight that drives personal development and enables businesses to execute efficiently and grow their sales, market share, and profitability.
---


Independent e-learning at your own pace


Live cohort learning can be added (for corporate training groups)
---


Library of downloadable performance support tools using the WIKI


Wider thought leadership as evidenced in our bank of white papers
Our retail courses can be accessed via the Martec Learning Management System with your company branding, if preferred, or integrated into your own learning management system with a corporate license.

For more on what to expect: Check out our class delivery options and find a method that best suits you or your team. For support on this, do get in touch.
---
Who Is Our Store Operations Career Path for?
Our Store Operations Career Path is for anyone looking to advance in this area, wherever they may happen to be on their career ladder already. We cater to entry level and advanced employees alike.
This career path is ideal for retail enthusiasts who enjoy working in a dynamic and fast-paced environment, have a keen eye for detail, and can handle multiple tasks efficiently.
Why Choose Us?

There are many reasons for you to choose Martec for your training needs, and here are just a few that make us stand out from the rest.
---


We have unmatched industry knowledge.


Our content bank is huge and ready to use immediately. Our broad range of clients also score us very highly for the quality of our content.


We can economically train any number of people, whether it's one or thousands.
---
What Does a Career in Operations Mean?
Though there are a variety of roles within this sector, one thing that links all store operations employees is ensuring the store - or chain of stores - continues to run smoothly.
As such, planning and strategy are vitally important. A career in this area can be challenging but incredibly rewarding when it comes to the business and its bottom line - turning a profit.
---
Browse Our Store Operations Courses
We have a variety of Store Operations Courses to get your employees started on the road to career advancement. They include:
---
---
Ready to advance your team? For more senior people, our more advanced Retail Consultant Career Path is designed for consultants, project managers, and business analysts looking to gain a deeper knowledge of store operations processes.
---
Become a Store Operations Manager with Martec International
If you're looking to take the next step in your career and become a store manager or other senior operations position, we can provide the foundation for you to get the ball rolling. An employee's career is often a huge part of their life, and investment in their training and development not only benefits them but the wider profitability of the store.
If the opportunity is there to advance, we'll give you and your employees the tools to get there.
Our bank of resources provides that strong basis, whether you want to learn via a course or curriculum method. Any questions about how to navigate our Operations Career Paths, we'd be happy to give our expertise.
---