The Importance and Value of Martec's Customer Surveys
There are many e-learning companies, though not so many in in our market segments, but customers do have choices. Through our consulting and previous instructor-led classes we were recognised in many countries as serious retail experts. We chose to differentiate ourselves in e-learning by building better products and providing much better customer service and customer satisfaction.
| | |
| --- | --- |
| | Learners |
| | In our case, learners study a class. At the end they take a mastery test. We are proud of the fact that our tests are hard and the pass mark is 80% or 70% for classes that carry a NASBA certification. You know you have achieved something when you pass our tests, so if you complete our short customer survey, we send you a certificate of achievement. These are emailed immediately a learner completes a survey. This helps motivate them to get started on the next class in their learning path. |
Analysis

We analyze the survey data carefully. One analysis is how the answers to the 4 scored questions are trending. In response to the question "Do you believe this class has helped you do the job better?", the average score is 8.6 out of 10 across a sample size of more than five thousand learners. We post the average scores on our web site product pages, in the form of star ratings. As far as we can establish, the e-learning industry average score for this type of question is about 5.5 to 6 and our is considerably higher, so we like our customers to know this.

We periodically send the client that orders our licences a copy of all the survey feedback received, good and not so good. When we issue the next product release, we itemise what changes we included from input received in previous surveys.
| | |
| --- | --- |
| | Releases |
| | When we issue a new release, not only will the class have been updated, but the downloadable resources in each class may have been updated or added to as well. In this case, we identify all users of earlier versions and, assuming that they still have current licences, we email them details of the new resources, which they can then download from our web site, to help them stay up to date. If they or their company do have a current licence, they can also re-visit the new version of the class to review the new content as well. The survey is voluntary, so we can only do this for learners who have submitted a complete survey return as we do not have user lists from corporate client. We only know the learners that responded to our surveys. |
.
We know from current clients that they value the survey analysis, and it helps show their companies the benefits our classes deliver.

So, we use our survey data to measure our own effectiveness, improve our products for our learners, bring past learners up to date and show customers the benefits they are achieving from their relationship with Martec.
---
Our Surveys Drive Customer Satisfaction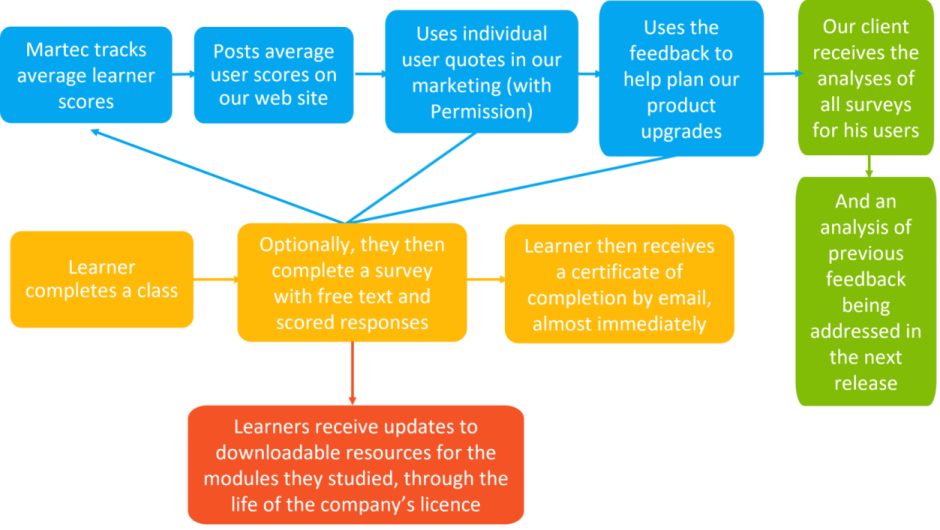 ---
Since we introduced surveys in 2020, we have received orders from 36 countries, but we now know that we have learners in at least 58 countries
Our classes are all in English, but we receive high scores and good comments from learners where you would not expect them to be so happy studying in English. If you train professionals, this is helpful to know.
Students studying in their second language often take twice as long to study a module as learners doing it in their first language. This helps us give meaningful guidance to customers in other countries on how long to expect a module to take.
In summary, our survey process provides us and our clients with valuable feedback on the results we both achieve and has helped us improve our customer service delivery very significantly.

---