How to Become a Supply Chain Manager
Interested in supply chain management for yourself or team? Our How to Become a Supply Chain Manager guide is packed with all the information you'll need to get started. Whether you're looking to start your own supply chain career path or advance the development of your team, we've got you covered.
Now, people will often underestimate how integral - or even varied - the roles within supply chain management are in the retail and consumer goods industry, but here at Martec, we've decades of experience in paying close attention to this ever-evolving sector.

In fact, logistics plays a key role in all sorts of businesses, no matter if that's retail or otherwise. So, if you're wondering how to become a supply chain manager or are looking to build a logical development plan for your team, you've come to the right place.

In this guide, we'll take you through:
What you can expect from a supply chain manager role
The qualifications and experience you or your team needs
The steps involved to advance a supply chain career
Whether you're just starting out in a small team or ready to climb the ladder, our wide range of supply chain e-learning courses are the go-to choice for thousands of learners across 60 countries worldwide.

Have a team that you're looking to upskill with an expert-led supply chain course? Contact us today.
---
What is the Role of Supply Chain Managers?
Supply chain managers oversee the logistics of a business, particularly the movement of goods and materials. This can involve the procurement of raw materials to support production, the flow of finished goods from suppliers to distribution centers and customers, and these days even end consumers.
It's worth noting that there are different types of supply chain managers since, after all, supply chain management consists of a number of different aspects. For instance, you might find:
Inventory managers - manage inventory levels for efficient and optimized operations
Supplier relationship managers - oversee relationships with suppliers to ensure that they receive high-quality materials
Martec's training classes can assist you or your team in developing and growing your knowledge when it comes to supply chain management. Browse our collection of courses online.
---
Responsibilities?
The supply chain manager job role includes a range of responsibilities, such as:
Work closely with suppliers, forming long-lasting and trustworthy relationships
Identify cost-effective opportunities to improve supply chains without compromising the quality of products
Organize the flow of goods and services from origin to consumption
Develop contingency plans to minimize and avoid disruptions to the supply chain
Do you want to kickstart your supply chain management career or upskill your team? Learn more about the path to becoming a supply chain consultant here.
What Qualifications Do You Need?
You don't necessarily need a degree in supply chain management to enter this sector. An internship or simply working towards the role through experience and training is also a common path that people take in becoming a supply chain manager.
However, some universities do offer supply chain management degrees that can be beneficial - these might even offer the opportunity for industry work and experience. Earning a degree in a relevant subject can be useful too, such as:
Business management
Finance
Computing, especially related to real-time control systems, robotics and similar
Information systems
Looking to climb your way up the career ladder in a supply chain role? Our supply chain courses are designed for exactly that.
---
How to Become a Supply Chain Manager
Good news - becoming a supply chain manager isn't as complicated as it might first appear. Whether you're pursuing this career yourself or are looking to expand the qualifications of your team, we've broken it down for you in these 3 steps:
---
| | |
| --- | --- |
| | Step One - Early Work Experience |
| | Finding work experience is key early on - no matter if that's an internship or a full-time job, work experience is incredibly valuable in helping aspiring supply chain managers get a hands-on feel of the industry. |
Step Two - (Optional): Bachelor's Degree

As mentioned previously, a Bachelor's degree isn't essential, but it can be an asset to have. It doesn't necessarily have to be a supply chain degree, but it should be relevant to the role.

If this option doesn't suit your interests, however, you can skip ahead to the next step as a degree is not a crucial requirement for a successful supply chain management career.
Step Three - Advanced Work Experience & Professional Certification

Now is the time to focus on more advanced work experience, especially in leadership roles. On top of this, attending training courses that award you with certifications when completed is another way to improve your skill set and develop your professional career.

Martec's supply chain courses will come in handy here.
---
General Work Experience Needed for Entry-Level Positions
Entry-level positions might still ask for experience regarding:
---
Relevant Work Experience Needed to Advance Up the Ladder
Some career paths (with suggested Martec training opportunities) to follow to propel you up the ladder include:
Intrigued by the different routes to establishing a supply chain manager career? View our collection of career paths to understand which industry skills and knowledge are required for each role.
---
Do I Need a Degree for a Career in Supply Chain Management?
Supply chain management is a career with many avenues of entry. Whilst some people may pursue an academic route first, it's not the only option. In fact, there are plenty of opportunities that provide entry-level experience where skills, such as a competence in analytical thinking and customer service, are qualifications in themselves.
---
You will less likely need a degree for the following positions:
Goods & Putaway Supervisor
Picking Supervisor
Dispatch Supervisor
Shift Manager
Transport Manager
Security/Loss Prevention
Meanwhile, the below roles have a higher intake of graduates:
Admin Manager (Finance/Inventory)
Quality Assurance (QA) Team Leader
Personnel Manager
Warehouse Manager (optional - approximately 50% are graduates)
Planning Manager
Demand Forecasting (desirable, though optional)
Head of Supply Chain
---
Supply Chain Manager Career Path
If you are still unsure about how to become a supply chain manager, Martec International provides excellent learning and training opportunities for retailers and consumer goods manufacturers looking to develop their teams.
---
Where to begin?
For those who are at the first stages of their careers or who have a more junior team, we recommend that you look at our retail induction career path for guidance on which are the most suitable training courses and resources for your experience. This career path offers fundamental foundational material that'll be useful for those at an entry-level stage.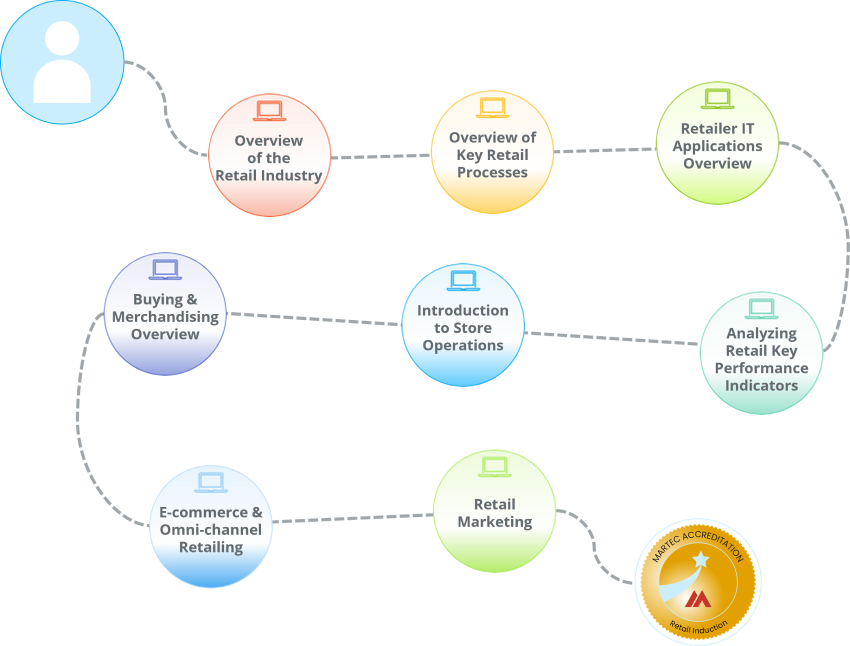 If you already possess basic knowledge or have a team that requires more advanced courses, our supply chain consultant career path covers a series of relevant training courses.
---
Your Path to Success Lies with Martec
If you're interested in a career in supply chain management, Martec's supply chain courses are what can help you climb your way to the top and make a lucrative career for yourself.

Whether you're a keen learner or employer seeking to upskill your team, we at Martec International have decades of experience in understanding the retail and consumer goods sectors inside out - and our outstanding reviews are testament to that!

Enquire today to get your employees set up on a career path or simply to ask for more information about our range of courses. We're always no more than just a short form fill away.
---