Upskilling Using Industry Knowledge to Sell More Successfully
How Easy Do You Find It to Identify the Class or Classes You or Your Colleagues Need?
There are three routes depending on your situation.
---
---
I Need a Specific Class
If you know you need an Understanding Retail Financials class, for example, simply go straight to the shop and browse the classes there. When you find the Martec option, you can review the detail of the class and determine whether it meets your need.
---
I Need Classes with Content on a Specific Topic
If you know that you need content that includes Financials enter the term into the search option and you will be shown all the relevant matches that will help you decide if we have what you want.
If your brief is not quite so specific, but you know you need training in buying and merchandising, you can select Buying & Merchandising Courses from the Courses menu tab to be shown a list of relevant courses like this:
---
---
This gives you the relevant set of classes available from Martec that you can evaluate to help you identify precisely what you need or give you all the information necessary to have an informed discussion with your colleagues.
---
I Need To Design a Curriculum
If your need is to develop a wider set of skills training across multiple roles in the organization, you can start with our Career Paths option.
Here we can see a slightly simplified career path map for a technology company supplying solutions to retailers.

---
---
For each highlighted job role you can select the icon to get the recommended learning path for that role. An example for Account Managers is shown below.
---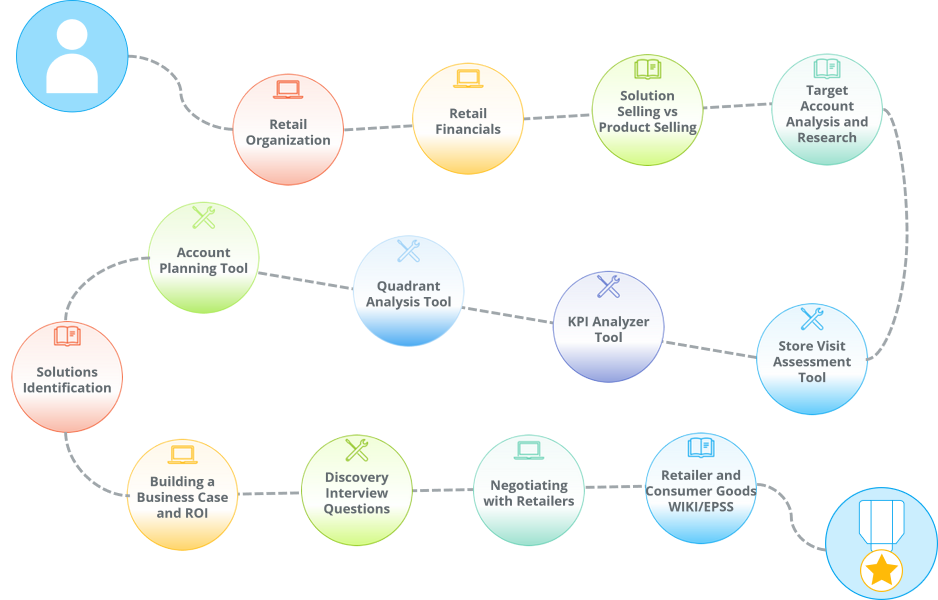 The circles above containing a computer screen symbol are e-learning classes. Those with a book symbol are extra topics available for those who want to develop a deeper expertise. Those with a tools symbol are tools the learner can use in their role to improve their performance. The extra topics and downloadable job aids are available to those who select our performance enhancer pricing.
This example assumes that someone in this role has either completed all the recommended training in the earlier stages of their career, or that they have on the job experience from their previous roles in your company or elsewhere. If this is not the case, the classes from previous levels should be reviewed for an individual's learning path to fill in identified gaps. For more detail on any of the steps along the path just select the appropriate circle to view additional detail.
As you can see, the career maps provided include a significant number of learning paths. However, if you are missing some that you need, Martec will be pleased to help you with them.
Visit our career maps and learnings paths for more guidance at any time.
For expert advice and assistance on career maps and learning paths please contact us for a prompt response.
---